OPS as the UNFPA's Implementing Partner in conducting the
"Longitudinal Cohort Study on the Girl and Boy Child"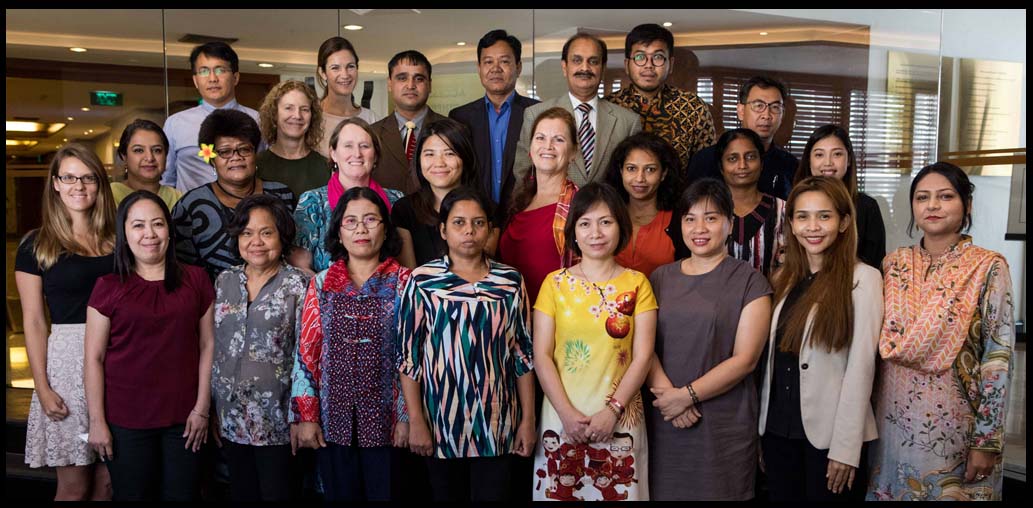 Josephine Avila of the USC-Office of Population Studies Foundation, Inc. (OPS) and Meiji Centeno of the Philippine Statistics Authority Central Office represented the Philippines in the kNOwVAWdata course on measuring violence against women (VAW) in Asia and the Pacific organized by the United Nations Population Fund Regional Office for Asia and the Pacific (UNFPA APRO), the University of Melbourne and the Australian National Research Organisation for Women's Safety (ANROWS). Other participants hailed from Vietnam, Sri Lanka, Thailand, Indonesia, Cambodia, USA, Australia, Pakistan, Nepal, Lao PDR, and Fiji. Most of them are from their country's Statistics Office and UNFPA Country Office, while a handful are from other government agencies and research institutions.
The four-week training course is designed for professionals seeking to build their skills in measuring the prevalence of violence against women. The first half of the course was held in Bangkok, Thailand from June 18-29, 2018. The second block will be conducted in Melbourne, Australia from September 17-27, 2018. The time between the two blocks will be spent on mentoring sessions with the resource persons and interaction among the participants in preparation for the activities in Melbourne. The workshop resource persons are Dr. Henrica A.F.M. Jansen of the UNFPA APRO in Bangkok, Dr. Kristin Diemer and Dr. Cynthia Vaughan both of the University of Melbourne.
The course covers key concepts relevant to VAW; tools used to generate reliable, comparable data; processes involved in undertaking a national prevalence study; ethical and safety guidelines; data management, analysis and dissemination; working with qualitative and administrative data; stakeholder engagement, and strategies for ensuring an inclusive approach to understanding VAW.
The Philippines had previously collected VAW information during the National Demographic and Health Surveys (NDHS) in 2008, 2013 and 2017 through a short module on "Women's Safety". The workshop is intended to train people in designing a more comprehensive VAW survey that is comparable across countries.